B&D Panel Lift Garage Doors in Australia
We love modern technology. It makes our lives so much easier than before and after a while, you don't even realise the power you have in your hands as you go about your day in a manner you previously would never even have thought possible. It is the simple things that make all the difference in our lives, take for example our homes. Many out there will be used to opening and closing their garage before and after rolling out the car. However, those that have B and D panel lift doors installed understand the simple joy to be had when you sit into the car, push the button, watch the door open, then push it again and see it close in your rearview mirror.
Read more
Looking for B&D Panel Lift Garage Doors?
At Greg James Garage Doors, we bring preeminent garage door solutions to those living on the Central Coast, in Newcastle and Lake Macquarie. We are known to those that have engaged our services in the past as consummate professionals that bring a high level of workmanship and commitment to each job we undertake. For the past 40 years, we have dedicated ourselves to this industry, and in doing so, we seek to provide only the best solutions on the market to our new and existing customers.
The Beauty of a B&D Panel Lift Garage Door
In terms of the products we supply and install, a B and D panel lift door offers wonderful reliability, strength and a new level of protection and security that brings our customers the kind of peace of mind they dream of. This is a smart, keyless system that enables you to use your remote control to activate it. What's more, with the locking mechanism using double the force required to lift the garage door into its open position, you can ensure that once closed; this door is staying closed.
Here at Greg James Garage Doors, we are just as conscious of the effect our weather can have on our homes. As such, this product comes with fantastic protection from the elements as a standard. Its weather seal will prevent insects and dust from getting inside while the long-lasting stainless steel cables ensure that the door is protected against corrosion, meaning that you will get many years of flawless service.
Safety is paramount, of course, and so you can rely on this panel lift door to safeguard against unwanted accidents. Each one is designed with Pinchfree™ features on both sides of the door, which protects against fingers getting caught between the hinges.
We believe in our abilities to supply, install and service any and all of our products. However, we also want you to feel confident in your investment, which is why parts and labour warranties come with our B and D panel lift doors.
Contact Us About Your New B&D Panel Lift Garage Door Today!
Regardless of whether you are a homeowner or a business owner, rest assured that here at Greg James Garage Doors no job is too difficult for us and we look forward to the prospect of new challenges and bringing our exceptional skills and range of products to your home or workplace.
If you are installing a garage door for the first time or exploring options, feel free to browse our ideas and inspiration photo gallery right here on the site. And, for those that know what they want, we hope to hear from you soon. At Greg James Garage Doors, the best in the business is here, waiting for your call and ready to get to work transforming your home.
Greg James Garage Doors specialise in garage doors for sale in Australia, such as timber look grage doors, B&D panel doors, automatic electric garage doors and many more. We offer a range of services including garage door repairs, garage door servicing and replacement door openers. We are the #1 choice for garage doors in the Central Coast, Newcastle, Lake Macquarie and anywhere in the Hunter Valley. Feel free to give us a call today!
Read less
Panelift Icon
A new level of strength, protection, security and reliability.

Enhanced Security For The Things That Are Precious To You
Our smart keyless technology allows you to lock your garage door every time you close it using nothing but your regular remote control. The lock more than doubles the force required to lift the door from a closed position, helping protect your home and loved onesƗ.
The Ultimate 'Do-Not-Disturb' Garage Door
Icon™ combines our custom designed guides with our Smooth Track™, twin wheel system that provides even smoother and quieter operation.
Superior Protection From The Elements
360º perimeter weather seals help prevent dust and insects from entering the garage, whilst long lasting stainless steel cables help protect against corrosion.
Stunning Street Appeal With Luxe Design™
Only Icon™ includes four additional door profiles and the stunning range of Luxe Design™ colours to perfectly reflect your sense of style.
Absolute Peace Of Mind
A trusted 5 Year Parts & Labour Warranty* from Australia's best known garage door brand.
---
Panelift
The Panelift sets the standard for strong, safe and reliable garage doors.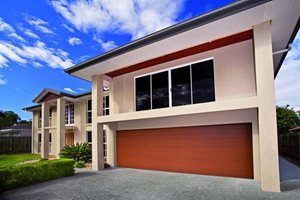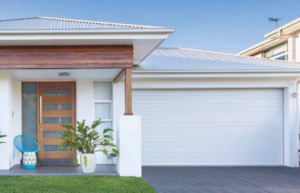 Safety – Inside & Out
B&D® is committed to your safety, so every Panelift® door features our Pinchfree™ finger safe design on both sides of the door, protecting fingers from being caught between the hinges.
Smooth & Quiet Operation
Custom designed guides allow the door to run easily and smoothly during operation so coming and going from your home is a breeze.
Strength & Durability
Each panel is made with strong reinforced COLORBOND® steel and tested to withstand the harsh Australian climate.
Trusted Reliability
Our 3 Year Parts & Labour Warranty* is backed by a team of garage door experts Australia wide.